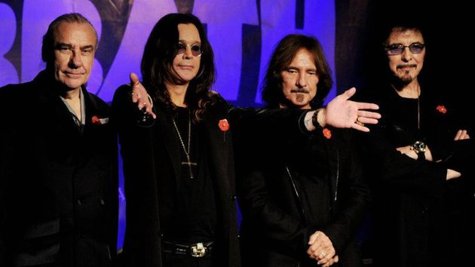 In a recent interview with GuitarInternational.com , founding Black Sabbath drummer Bill Ward lamented that he isn't currently playing with the band, while insisting that reports claiming that he isn't physically able to handle touring with the group aren't true. However, Sabbath singer Ozzy Osbourne maintains that he doesn't think the 65-year-old beat keeper "could have done the gig."
Speaking last week to the New York Daily News , Osbourne said, "He's incredibly overweight. A drummer has to be in shape. He's already had two heart attacks. I don't want to be responsible for his life."
Even so, Osbourne told the paper that he'd be happy to have Ward back in the band, saying "the door is always open" for him to return, while admitting that Black Sabbath is "not the same" without him. For his part, Ward told GuitarInternational.com that he'd consider rejoining Sabbath if he can reach an agreement on an acceptable contract. As initially reported, Ward said his decision not to participate in the recording of the group's new album, 13 , and the tour in support of it came down to being offered an unfair contract.
Meanwhile, Osbourne said he couldn't be happier about how well 13 turned out and is being received by critics.
With regard to the record debuting at the top of the Billboard 200 chart, he told the newspaper -- with his trademark flair for language -- that he remembered thinking, "What the f*** is this? Who the f*** gets their first number-one album 45 years into their f***ing careers?"
As for his initial reaction to hearing 13 , Ozzy noted, "I'm a terrible critic of myself. I rip my own albums apart. But when I heard this finished, I said to my wife, 'I don't know what they did.' It hit me like a sledgehammer."
Black Sabbath's current North American tour leg is mapped out through a September 3 show in Los Angeles.
Copyright 2013 ABC News Radio