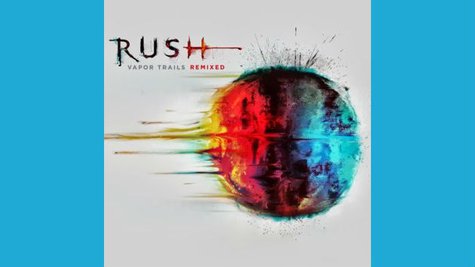 A remixed version of Rush 's 2002 studio effort, Vapor Trails , will hit stores on October 1 as a stand-alone release as well as part of a box set featuring the albums the recent Rock and Roll Hall of Fame inductees recorded for the Atlantic Records label. The revamped Vapor Trails , which also will boast reworked cover art, will be available as a CD, a two-LP vinyl set and a digital download.
Fans were given a preview of the updated disc when two songs from the collection -- "One Little Victory" and "Earthshine" -- were remixed for Rush's 2009 Retrospective III compilation.
"Vapor Trails was an album made under difficult and emotional circumstances -- sort of like Rush learning how to be Rush again -- and as a result, mistakes were made that we have longed to correct," explains frontman Geddy Lee in a statement. " David Bottrill 's remixes have finally brought some justice and clarity to this deserving body of our work…Every song has been given a new life."
The remixed Vapor Trails also will be included in a seven-disc box set titled The Studio Albums 1989-2007 that also contains 1989's Presto , 1991's Roll the Bones , 1993's Counterparts , 1996's Test for Echo and the 2004 covers EP Feedback . With the exception of the remixed Vapor Trails , all of the discs will be packaged in wallet sleeves boasting each release's original artwork.
The suggested list price for The Studio Albums 1989-2007 is $49.98, while the Vapor Trails CD, double LP and digital edition will sell for $11.98, $29.98 and $9.99, respectively.
Rush wraps up the current leg of its Clockwork Angels 2013 tour this Sunday in Kansas City, Missouri.
Copyright 2013 ABC News Radio