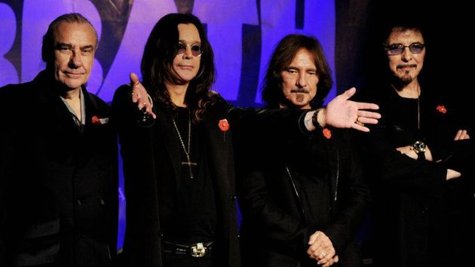 Attention, Black Sabbath fans! If you're upset that longtime Sabbath drummer Bill Ward isn't behind the kit on the band's current tour, you're not alone. Turns out Ward himself isn't exactly thrilled about this either. Ward tells GuitarInternational.com that he is "quite capable" of doing the job.
"I was offered a contract and I couldn't sign it," he explains to the site. "It was one of the toughest decisions that I ever had to make. Because I absolutely and without question wanted to play. I haven't left the band. Everybody thinks I have left the band [but] it wasn't like that at all. I just didn't sign the contact and life took its own course."

In response to being invited by his band mates to play on a few songs per show, Ward says, "I play all or nothing. Playing partially would kind of be aligning to my demise… I'm the drummer in Sabbath and quite capable of doing the job."
In the meantime, the rest of Black Sabbath -- with former Rage Against the Machine drummer Brad Wilk -- continues to tour behind their album , 13 . Their next date is Friday night in Bristow, Virginia.
Copyright 2013 ABC News Radio