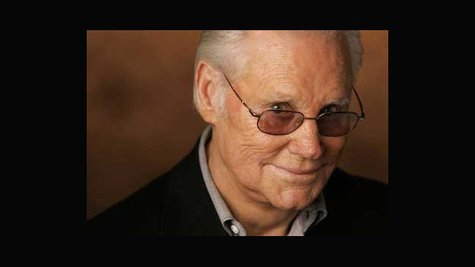 Country music legend George Jones died at the age of 81 on Friday in Nashville, Tennessee after being hospitalized April 18 with a fever and high blood pressure. Despite being one of the defining artists in country music history, reaction to his death on Twitter and online proves that his work was a huge influence on every genre of music.
Kings of Leon drummer Nathan Followill tweeted , "RIP George Jones, you'll be sorely missed. One of the all time greats. #allpossumsgotoheaven."
The Decemberists frontman Colin Meloy also paid tribute to the late country singer, tweeting , "Thanks for the music, George." He also included a link to performance by Jones and his ex-wife Tammy Wynette singing "Golden Ring" on the syndicated country music television series Pop Goes the Country two years after their divorce.
Other stars' comments:
Tom Morello : "RIP country titan George Jones. Raw honest music."
Nikki Sixx : "RIP George Jones. What a huge loss to music."
Bret Michaels : "#RIPGeorgeJones. My heartfelt prayers go out the family, friends and fans of George Jones."
Copyright 2013 ABC News Radio