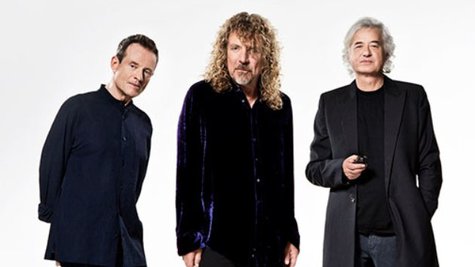 It's not the same as an interview with the guitar legend himself, but it's interesting nevertheless. Jimmy Page 's rep recently did an impromptu Reddit Q&A session , and the news is a mixed bag for Led Zeppelin fans. Members of Q Prime management -- which manages such acts as Page, Red Hot Chili Peppers , Metallica and others -- were reportedly on a road trip to see Dawes when they decided to make use of their time by offering behind-the-scenes answers to Zeppelin fans' burning questions.
First, the bad news: when pressed about the possibility of a Led Zeppelin reunion for either a tour or a one-off show, the responding member of the Q Prime team said, "Honestly, my gut tells me they won't." Perhaps indicating just how dissatisfied they are with the situation, the Q Prime team responded " John Bonham" when asked which rock star they'd like to bring back from the dead, explaining it was "in the hopes that maybe Led Zeppelin would play another show."
But there was some good news: there will be never-before-heard Zeppelin music on the band's forthcoming remastered box sets. The Q Prime team reported that Jimmy Page is so engrossed in sifting through the band's archives that he's forgoing work on his own solo material in order to concentrate exclusively on Led Zeppelin. What's more, it's likely that there will be a box set for each original Zeppelin album.
Says Q Prime, "Some of the reissued box sets will come out this year, but in the world of Led Zeppelin, time is a fungible thing. Hopefully will have a box set for Coda too. [It] depends on what's in the archives."
Copyright 2013 ABC News Radio