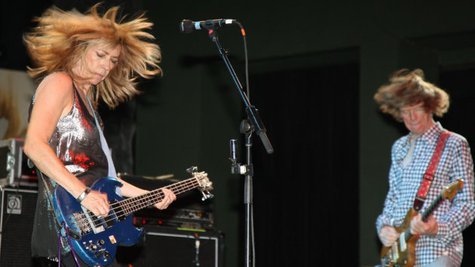 Sonic Youth bassist Kim Gordon has revealed the reason behind her 2011 split with longtime partner and band mate Thurston Moore . Gordon says that she ended their 27-year marriage because Moore was having an affair with a woman who was the girlfriend of a former band member.
"We seemed to have a normal relationship inside of a crazy world," Kim tells ELLE magazine. "And in fact, it ended in a kind of normal way -- midlife crisis, starstruck woman."
The bassist notes that she confronted Moore about the affair and that they went to counseling, but Moore refused to stop seeing the woman. "We never got to the point where we could just get rid of her so I could decide what I wanted to do," she explains. "Thurston was carrying on this whole double life with her. He was really like a lost soul."
Gordon adds that she faced another setback following her separation from Moore: she was diagnosed with a noninvasive form of breast cancer called DCIS. While she had a lumpectomy to fix the problem, the news couldn't have come at a worse time. "I'm fine; it's literally the best you can have," Gordon explains. "I didn't do radiation or anything, but I was like, 'Okay, what else is going to happen to me?'"
While the future of Sonic Youth is uncertain, Gordon says she's planning to tour with her new band, Body/Head , sometime this year.
Copyright 2013 ABC News Radio