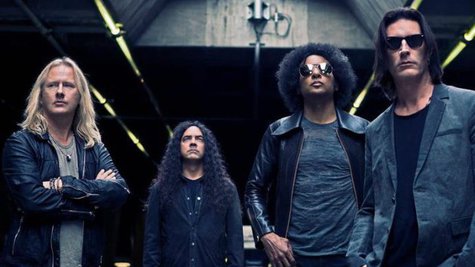 Alice in Chains fans can expect some serious musical experimentation from the band on their upcoming album, The Devil Put Dinosaurs Here. Guitarist Jerry Cantrell says that the guys always strive to achieve something different every time they make a new album.
"I don't think you could say any one of our records sounds like another record that we put out, and that's a cool thing, I think, about this band," he tells ABC News Radio. "After we put a record to bed, that is in the past. You have to start from a zero every time, that way you get something fresh and you keep your perspective charged up…to make the new music and I think that's why we've been able to make the sorts of records that are different from each other."
Last week, the guitarist performed with Pearl Jam 's Mike McCready to help celebrate fellow Seattle musicians Heart getting inducted into the Rock and Roll Hall of Fame. While Alice in Chains will be eligible for that honor in about two years, Cantrell says that he's not concerned about it.
"I don't really think about it a whole lot," he notes. "I didn't get into this to win awards so it doesn't make me feel any better. It's very nice to be thought of with other musicians and to have somebody consider your work something that's memorable or something to be celebrated. That part of it is cool."
The Devil Put Dinosaurs Here will arrive in stores on Tuesday, May 28 and features 12 new tracks. If you pre-order the album now at iTunes , you'll score an immediate download of the band's current single, "Stone."
Copyright 2013 ABC News Radio