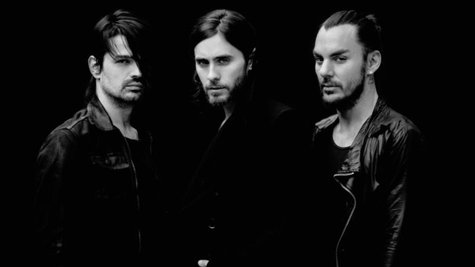 30 Seconds to Mars has decided to release something unique to promote "Up in the Air," the first single from their upcoming fourth studio album, Love Lust Faith + Dreams . On Friday, the band posted a short film, directed by frontman Jared Leto under his pseudonym Bartholomew Cubbins , which serves as an extended video for the single.
The nine-minute film features footage of the band performing "Up in the Air" in a warehouse, interspersed with twitchy clips of gymnasts performing floor exercises, groups of people fighting with handfuls of colored chalk, and a variety of wild animals.
"This short film is quite unlike anything we have ever done before. With contributions from [artist] Damien Hirst ,[burlesque star] Dita Von Teese , U.S. Olympic gymnasts McKayla Maroney and Jordyn Wieber , [photographer] Maxwell Snow , [author/journalist] Neil Strauss , a lion, wolf, a snake (and yes some zebras), we take an epic, bizarre + hallucinogenic journey through a incredibly surreal landscape," says Leto in a statement. "It was exciting to explore new territory and once again work with the maniacal Bartholomew Cubbins at the helm."
Love Lust Faith + Dreams will arrive in stores on Tuesday, May 21 and features 12 new tracks. If you pre-order Love Lust Faith + Dreams now at iTunes , you'll score an immediate download of "Up in the Air."
Copyright 2013 ABC News Radio