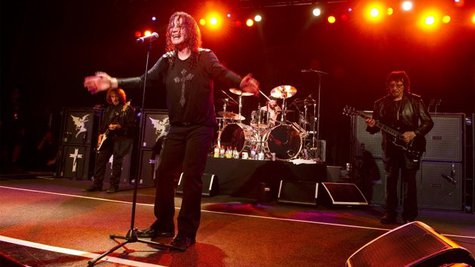 Black Sabbath frontman Ozzy Osbourne reveals that he was worried about getting back in the studio with the band to record 13 , his first studio album with bassist Geezer Butler and guitarist Tony Iommi since 1978's Never Say Die .
"The pressure was on us, because it had been so long since we'd worked together," he tells Fuse in a video interview. "It's, like, now or never. This album, for me, was probably the most important of my career."
Iommi adds that working on the record with famed producer Rick Rubin was a unique experience, as Rubin tended to be in and out of the studio sporadically throughout the entire recording process. "It was funny at first, because coming to rehearsals, when we were actually writing the songs, he'd come down for like, five or 10 minutes and then go," he explains. "Then he'd go, 'Call me when you've got another one.' So it was really strange. We'd never worked with anybody like that before."
13 is set to be released on June 11. We'll get our first taste of the upcoming release when the group premieres one of the new cuts, "End of the Beginning," on the May 15 episode of the CBS' CSI: Crime Scene Investigation .
Copyright 2013 ABC News Radio