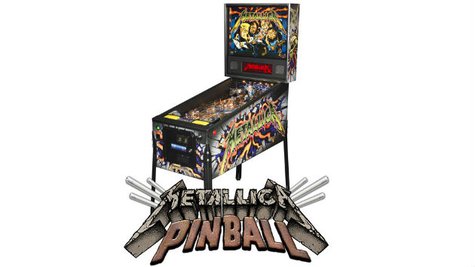 Start saving your money now, Metallica fans, because you'll need quite a few quarters to own the group's new signature line of pinball machines. After recently announcing a list of their songs that will be heard in the games, Metallica has now revealed the price tags .
Three different versions of Metallica Pinball will be available, each with its own unique artwork and playable features. The pro version will run you $4,995, while the premium version -- which features a body design that mimics the band's road cases -- costs $6,995. A limited-edition version of the game will be available as well for $7,595, which features artwork from the band's 1986 album, Master of Puppets .
"After years of playing on [guitarist] Kirk [ Hammett ]'s machines at [the band's headquarters in San Rafael, California], we jumped at the idea when Stern Pinball came to us with some designs and ideas some time ago," said the band in a joint statement. "Features will include an electric chair, snake, grave markers and lots of other bells and whistles, along with art by our friend Dirty Donny ."
While you can order the Metallica Pinball machines now through the band's Met Club and authorized Stern distributors and dealers, they're expected to hit stores sometime in May. Here's the full list of tracks that will be featured in Metallica Pinball:
"Creeping Death"
"For Whom the Bell Tolls"
"Fuel"
"Master of Puppets"
"The Unforgiven"
"Seek and Destroy"
"Battery"
"Sad but True"
"Enter Sandman"
"One"
"Fade to Black"
"The End of the Line"
Copyright 2013 ABC News Radio