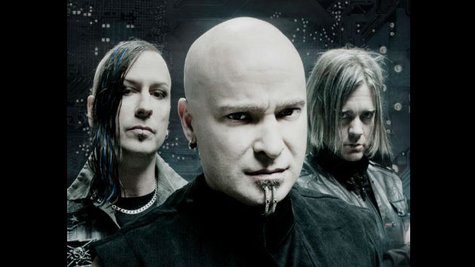 Device , the side project of Disturbed frontman David Draiman , released their self-titled debut album on Tuesday. While the set features collaborations with a large group of rock luminaries, Draiman says that he originally expected to have only one special guest contribute to the album: Halestorm frontwoman Lzzy Hale .
"The only [guest] that was preconceived was the 'Close My Eyes Forever' [ Ozzy Osbourne / Lita Ford ] cover with Lzzy," he tells ABC News Radio. "That's something that her and I had been talking about for years and originally we talked about doing it with Disturbed. But I'm very glad it ended up happening with Device because the texture of the song, the massive infusion of electronica and strings and synth would not have been able to have been done in Disturbed. It wouldn't have been appropriate."
Draiman adds that he wound up recruiting the rest of the guests who appear on the release -- including System of a Down singer Serj Tankian , Rage Against the Machine guitarist Tom Morello , Black Sabbath bassist Geezer Butler and former Deep Purple bassist Glenn Hughes -- while having dinner with them in Los Angeles.
"Serj and Tom and I have been friends for years and we'd always talked about doing something together one day," he explains. "And then the next day, I was invited by Glenn and went to dinner and we had [ Chickenfoot touring drummer] Kenny Aronoff at the table and Geezer Butler and it came up in dinner conversation that Glenn had decided to do a track on the record and so Geezer asked me about it and I'm like, 'Yeah, would you like to do a track too,' and he said, 'Oh, I'd love to.' And so before I know it, I have five guests on the record."
Device is currently trekking across North America promoting their debut album. Gemini Syndrome and Nonpoint are supporting the band on select dates. Visit DeviceBand.com to view the full itinerary.
Copyright 2013 ABC News Radio