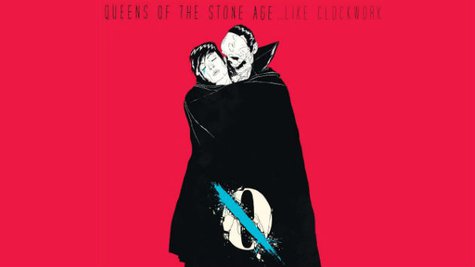 Queens of the Stone Age has announced the release date for their upcoming sixth studio album, ...Like Clockwork . It will arrive at all the usual outlets on June 4.
The band has also revealed the artwork for the release as well. The cover features a skull-faced character in a cape, embracing a weeping woman.
...Like Clockwork features guest appearances by Foo Fighters frontman/former Nirvana drummer Dave Grohl , Trent Reznor from Nine Inch Nails , Scissor Sisters vocalist Jake Shears , former Screaming Trees frontman Mark Lanegan , pop icon Elton John , former Mars Volta drummer Jon Theodore and Arctic Monkeys frontman Alex Turner . The release will also include two former QOTSA members: bassist Nick Oliveri and drummer Joey Castillo .
In addition, the track list for ...Like Clockwork has been made available. The album will feature 10 new songs, including the first single, "My God Is the Sun," which has now arrived at radio. You can stream the track at the band's website, QOTSA.com , or on YouTube .
Here is the track list:
"Keep Your Eyes Peeled"
"I Sat by the Ocean"
"The Vampyre of Time and Memory"
"If I Had a Tail"
"My God Is the Sun"
"Kalopsia"
"Fairweather Friends"
"Smooth Sailing"
"I Appear Missing"
"...Like Clockwork"
Copyright 2013 ABC News Radio