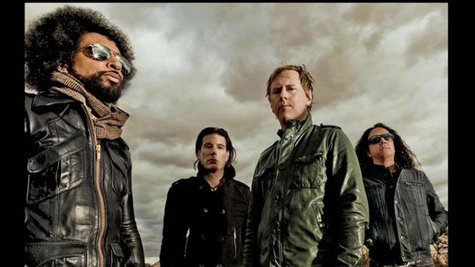 Alice in Chains poke fun at their musical legacy in a new video at FunnyOrDie.com to help promote the release of their upcoming album, The Devil Put Dinosaurs Here.
Titled AIC 23 , the 11-minute mockumentary follows a community college film studies professor named Alan Poole McLard, who interviews a variety of musicians about how Alice in Chains has influenced them and their music.
While members of Alice in Chains portray a number of unknown musicians in the clip, a number of rock luminaries share their thoughts on the band including Metallica 's Lars Ulrich and Robert Trujillo , Pearl Jam guitarist Mike McCready , Soundgarden guitarist Kim Thayil and Mastodon guitarists Brent Hinds and Bill Kelliher . Former Guns N' Roses bassist Duff McKagan also makes an appearance in the short film, but he mistakenly thinks that the documentary is about legendary shock rocker Alice Cooper .
The Devil Put Dinosaurs Here will hit all the usual outlets on May 28.
Copyright 2013 ABC News Radio