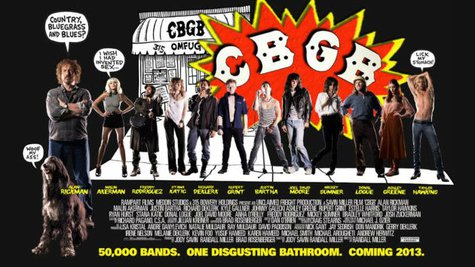 Ever wonder who might play Iggy Pop in a movie? How about Taylor Hawkins ? The Foo Fighters drummer is featured on a new promotional poster for the upcoming movie CBGB , which tells the story of the legendary New York City rock club.
Appearing on the poster in addition to Hawkins are Joel David Moore as Joey Ramone , Mickey Sumner ( Sting 's daughter) as Patti Smith , Malin Ackerman as Debbie Harry , Rupert Grint as Dead Boys guitarist Cheetah Chrome , and Justin Bartha as Dead Boys singer Stiv Bators . Alan Rickman also is pictured as CBGB owner Hilly Kristal . In addition, you can see stills from CBGB at the movie's official Facebook page and at UnclaimedFreightProductions.com. The CBGB Facebook page also features a couple of behind-the-scenes video clips.

CBGB is being directed by Randall Miller , who co-wrote the script with Jody Savin . The film, which currently is in post-production, is expected to premiere later this year.
Opened in 1973 in the seedy Bowery section of New York City, CBGB soon became the launching pad for some of the first punk and New Wave acts, including The Ramones , Blondie , Patti Smith, The Talking Heads and Television . It closed in October 2006 and Kristal passed away the following year.
Copyright 2013 ABC News Radio