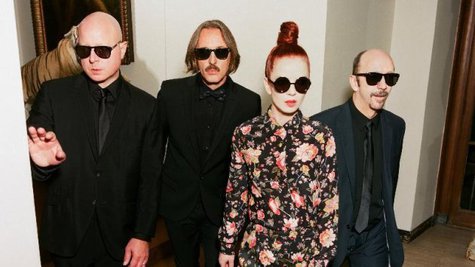 It looks like we won't have to wait seven years to get our hands on the next Garbage album. Drummer Butch Vig says that he's hoping to get the band into the studio this summer to begin recording tracks for the follow-up to 2012's Not Your Kind of People .
"We'd like to see a record come out next year," he tells Billboard . "We may try to go into the studio in June and start working on another album. We don't really have any songs started yet, but we all have ideas for songs."
Vig adds that the band members have been bonding during their recent world tour to promote Not Your Kind of People . "Everyone's getting along," he explains. "We're really having fun at the shows. We look out for each other, too; if someone's down and not feeling very good, we try to pick them up. It's very much like a little, dysfunctional functioning family."
In other Garbage news, the band recently revealed they'll be releasing a limited edition 10-inch vinyl record on Record Store Day, April 20. The record will feature an original song titled "Love Like Suicide," a cover of Patti Smith 's "Because the Night" featuring the Screaming Females and a fan-made remix of "Automatic Systematic Habit" from Not Your Kind of People .
Copyright 2013 ABC News Radio