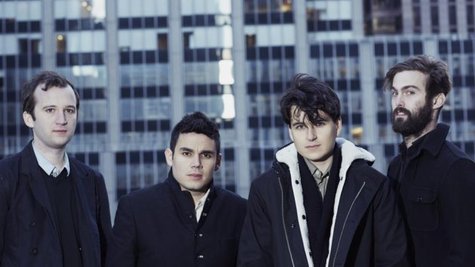 Vampire Weekend is catching some heat for burning two beloved old Saab 900s on the set of their new music video, "Diane Young."
The previous owners of the vehicles reportedly thought they were selling the cars to someone who would respect and care for them. Little did they know that the cars were purchased by a record label representative for the sole purpose of torching them in front of New York City's Manhattan Bridge. The band was not present on the set where the cars were burned.
Vampire Weekend singer Ezra Koenig responds on music blog Spinner.com , "If the people selling their cars felt mislead by the production company that bought them...of course if we had been there, if we had been a part of it we would never lie to somebody just to get a car -- we could have easily found something else." He added, "Stuff like that, we hope that that wasn't done dishonorably."
The music video shows a slow-motion shot of two Saabs set ablaze in front of the East River. However, band members say destroying the wheels was not meant to offend classic car enthusiasts. Koenig says, "I want people to understand that we do respect cars and the last thing we want to do is to f**k up a collector's item or something like that." He adds, "Hopefully people believe me when I say that our record label was looking to purchase the cheapest, oldest cars possible; they weren't trying to buy a beautiful perfect condition car."
Koenig notes that his bandmate Rostam Batmanglij has a special connection to the former Swedish automaker. Koenig explains, "Rostam especially loves Saabs. When he grew up his family drove a Saab."
Then again, the lyrics to "Diane Young" state, "You torched a Saab like a pile of leaves. I'd gone to find some better wheels."
Copyright 2013 ABC News Radio