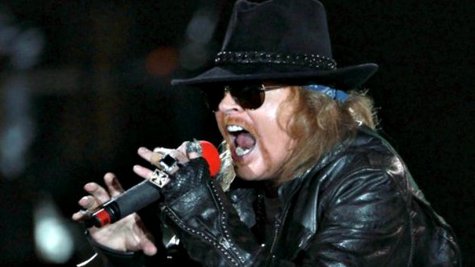 While it took Guns N' Roses 15 years to release its sixth studio album, Chinese Democracy , frontman Axl Rose is promising that it won't be that long before we get the band's next album. Rose says that there were a number of issues he faced while making Chinese Democracy which made it difficult to release the album until 2008.
"I had to deal with so many other things that don't have to do with music but have to do with the industry," Rose tells USA Today . "There wasn't anyone to work with or trust. Someone would come in to help produce and the reality was they just wanted to mix it and get it out the door. [The next album] will come out sooner."
The singer adds that his ex-girlfriend Stephanie Seymour and former GN'R guitarist Slash and bassist Duff McKagan didn't make things any easier for him to write lyrics for the album. "At the time of the [ Use Your Illusion ] tours, Slash and Duff said, 'You're an idiot, you're a loser,'" he reveals. "I didn't write for years. I was also trying to figure out what I wanted to say, when it's right to be venting and when you're digging a bigger hole. Lyrics on Chinese took a long time."
Rose noted that the band's current lineup is hard on work on ideas for their next release. "All the guys are writing, and we recorded a lot of songs over the years," he explains. "We'll figure out what we feel best about."
As for reuniting with the band's former lineup, Rose says that the decision to work together again isn't up to him. "I feel that ball's not in my court," says the singer. "I'm surviving this war, not the one who created this war."
Guns N' Roses kicks off a series of shows at The Joint in the Hard Rock Hotel & Casino in Las Vegas on Wednesday, where they'll be paying tribute to the 25th anniversary of the release of their debut album, Appetite for Destruction .
Copyright 2012 ABC News Radio