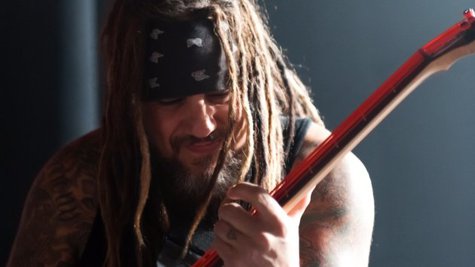 Korn fans shouldn't expect the band to experiment with dupstep again on their next album. Guitarist James "Munky" Shaffer says that while the guys enjoyed mixing things up with producers of the genre for The Path to Totality , they'll be trying something new for their eleventh studio album.
"We've been working on it for a while, just recording ideas," Shaffer tells the Phoenix New Times . "I wouldn't say it's a 180[-degree turn] from the last album, but we're definitely taking a different approach. We're not going with the dubstep style, but we are using a lot of interesting recording techniques."
Shaffer adds that the forthcoming release will be "more melodic" and that his guitar parts will be "more aggressive and much more in your face."
"I want to feature more guitar on this [upcoming] album, on the one were writing right now, we still have one foot in the electronic [style], not necessarily the dubstep [sound], and we still have a fresh approach on the guitar riffs with some melodic vocals," he explains.
Copyright 2012 ABC News Radio