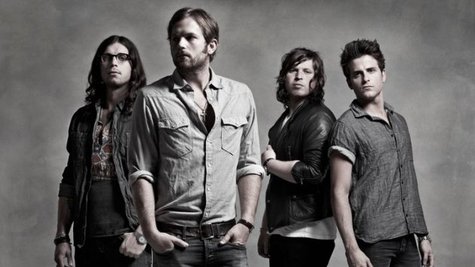 Good news for Kings of Leon fans: the band has begun working on their follow-up to 2010's Come Around Sundown . Bassist Jared Followill says that the guys have been meeting regularly and are now in the beginning stages of songwriting process.
"Kings of Leon are in a stage where we are, like, there are 10 steps to making an album -- we're in like stage two right now," Followill tells Spinner . "Like, writing songs still, still getting our songs together. We put a lot of emphasis on getting our songs together and having them finished before we go into the studio." Followill adds that the band tends work quickly once they begin the recording process, claiming that they've "never spent more than six weeks in the studio."
As for Smoke & Jackal , Followill's side project with Mona frontman Nick Brown , fans shouldn't expect the guys to hit the road just yet for a tour to support their recently-released EP, EP1 .
"As far as touring goes, if there was a great demand for Smoke & Jackal, and the people were, like, 'You have to play live' and 'Everybody's asking for it,' we could definitely pull something together," says Followill. "It would just never be a 60-date tour or anything like that."
Copyright 2012 ABC News Radio