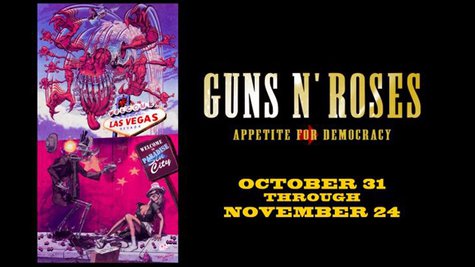 On October 31, Guns N' Roses will kick off their first residency with a series of shows at The Joint in the Hard Rock Hotel & Casino in Las Vegas. In addition to experiencing tracks from the band's debut album, Appetite for Destruction , guitarist DJ Ashba says fans who attend the gigs can expect to see an amazing stage show.
"When you're on the road, you can only do so much a night because the show has to be big, but it can't be too big to where you can't tear it down and get it to the next state," Ashba tells the Las Vegas Review-Journal . "This is something where we can custom build a stage just for the venue, we can bring in the right lighting. You can do so many things and really cater to the venue that you're playing in."
In addition to playing tracks from their debut album, Ashba notes that GN'R will draw their sets from every one of their albums. "What [frontman] Axl [ Rose ]'s really good at doing is reading the crowd," he explains. "We never follow a set list. Basically, we just kind of go from song to song and throw it out on the spot, in between every song, and that's what makes every show so spontaneous and different."
Copyright 2012 ABC News Radio