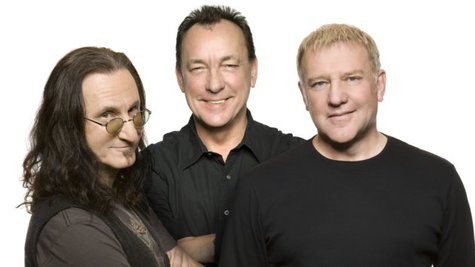 Rush has been exciting fans on its current North American tour in support of its latest album, Clockwork Angels , and the Canadian prog-rockers recently got some exciting news themselves -- they're among the nominees for induction into the Rock and Roll Hall of Fame next year. However, the acclaimed power trio's guitarist, Alex Lifeson , apparently isn't overwhelmed by the potential honor.
"I'm really happy for the Rush fans who feel that it is really important, and I hope we're inducted for their sake," Lifeson explains in a recent interview with New Jersey newspaper The Record . "Personally it never really mattered to me, but at the same time it's nice to be nominated."
The rocker says he's more impressed that Rush received the Governor General's Performing Arts Awards for Lifetime Artistic Achievement from his home country back in March.
"The acknowledgement we got from the Canadian government, and by extension Canadians, is very dear to us," Lifeson says. "The Rock and Roll Hall of Fame is more a popularity contest."
Rush has been eligible for induction into the Rock Hall since 1999, 25 years after the group released its debut album. Other artists nominated for the honor this year include Heart , Joan Jett and the Blackhearts , Randy Newman , Procol Harum , Kraftwerk and The Paul Butterfield Blues Band , among other luminaries. The 2013 inductees are expected to be announced in December.
Copyright 2012 ABC News Radio