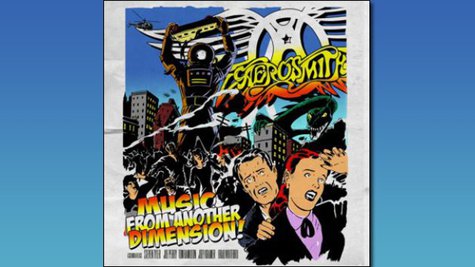 Oh yeah! The fifth installment of the eight-part Web series on the making of Aerosmith 's upcoming album, Music from Another Dimension! , has debuted , and this video focuses on the recording of the new tune "Oh Yeah." The two-minute, 18-second clip features an interview with guitarist Joe Perry explaining how the song came together interspersed with footage of the band at work in the studio.
Perry explains that when he wrote "Oh Yeah" at his Boston-area home studio, The Boneyard, the song had "more of a funk kind of vibe." After showing the tune to singer Steven Tyler , who "liked it right from the start," the guitarist notes that it began to develop into more of a classic rock number.
When the album sessions moved to Los Angles, Perry says he revisited "Oh Yeah." He explains that he'd originally written the song for him to sing, then considered recording as a duet with Tyler. Inevitably, though, he decided the track would be best served by letting Steven handle the vocals himself.
"I started to hear him do it and it was obvious that he was gonna kill it," Perry says. "There's so much energy going on around it that I said, 'Okay, take it away.'"
To finish the tune, a horn section and some female backing vocals -- including one-time American Idol finalist Lauren Alaina -- were added to the mix. The result, says Perry, was "a real classic rock 'n' roll song."
In other Aerosmith news, a promo video for the band's new single "What Could Have Been Love" will premiere this Friday exclusively at YouTube.com/VEVO . Also, RollingStone.com has begun streaming tunes from Music From Another Dimension! on a track-by-track basis leading up to the album's release on November 6. You can check out the opening track, "LUV XXX," along with commentary from Tyler and bassist Tom Hamilton , now at the website.
Copyright 2012 ABC News Radio
Aerosmith - "The Making of Music From Another Dimension" - Episode 5 from Columbia Records on Vimeo .