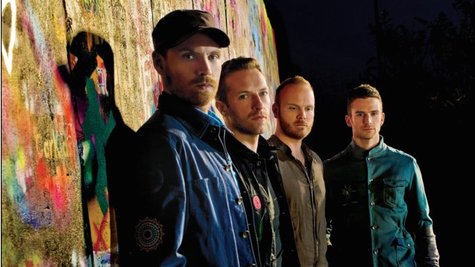 Die-hard Coldplay fans will soon have an opportunity to own artwork painted by the band for their latest album, Mylo Xyloto . The band will be hosting an art exhibition showcasing and selling original paintings they created with their artist-in-residence, Paris , all to support the charity organization Kids Company .
"Kids Company is a phenomenal organization that is very close to our hearts," said Coldplay frontman Chris Martin in a statement. "While we were making the last album we did quite a lot of painting with our friend Paris. We built a special wall in our studio and sprayed it, wrote on it and threw things at it until it eventually became the artwork for Mylo Xyloto . This exhibition will be the first time that the wall has appeared in public."
In addition, Coldplay will also offer fans the chance to buy prints of the Mylo Xyloto artwork signed by the band, as well as exclusive photographs from the band's current world tour. The exhibition will take place November 29-December 2 at Proud Galleries in Camden, London. For more information and to purchase the artwork, visit AlbumArtists.co.uk .
Copyright 2012 ABC News Radio