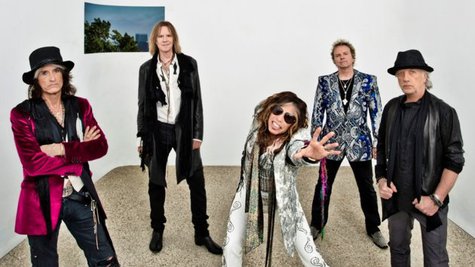 With the arrival of the band's latest album, Music from Another Dimension! , on November 6, Aerosmith will complete its commitment to its deal with Columbia Records. Singer Steven Tyler says that might leave the door open for the band to begin putting out music without interference from a label.
According to Billboard , Tyler told reporters on Thursday that "if the band stays together," they "definitely" will consider self-releasing future albums.
"We've been keeping record companies stocked with millions of shekels for years," he said, adding, "every now and then you get into arguments with labels [and] you think, 'Where is all this money going?'"
Guitarist Joe Perry , meanwhile, didn't seem as gung ho about the concept.
"There's so many different directions we can go," he told Billboard . "[Columbia Records] has been totally with us and behind us on this album, and really supportive. So the talk about what happens when…we [finish] our commitment with [parent company] Sony [is] really an open question at this point."
Aerosmith kicks off the next leg of its Global Warming World Tour on November 8 in Oklahoma City, and Tyler revealed to reporters that the group will mount a major international trek after the New Year. He also revealed his plan to record a solo album after the band finishes promoting Music from Another Dimension! The rocker assures fans, though, that the solo effort doesn't "mean the band's breaking up. It means I'll divert a little and have some fun with other people."
Copyright 2012 ABC News Radio