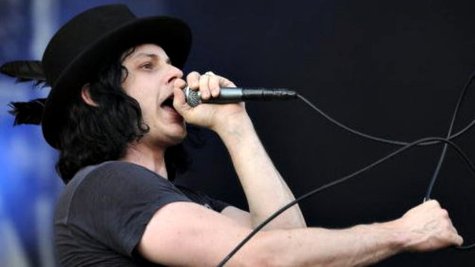 The fourteenth installment of Jack White 's Third Man Records subscription series The Vault will include a previously-unreleased live recording of The White Stripes frontman's first solo performance.
The package will include a double album of White's debut concert at Third Man Records during the label's three-year anniversary party, which took place earlier this year on March 8. The track list for the vinyl release includes a number of tracks from White's debut solo album, Blunderbuss , as well as a fair amount of The Stripes' classic hits.
Vault subscribers will also receive a 7" vinyl record featuring demo recordings of Blunderbuss tracks "Freedom at 21," "Love Interruption" and "Hypocritical Kiss." In addition, a book titled Shark Infested Soda Fountain will also be included in the package. The book features rare and candid pictures of the members of White's side project, The Dead Weather , taken during their 2009 tour.
Vault package number fourteen will be available to all subscribing members until October 31.
Copyright 2012 ABC News Radio