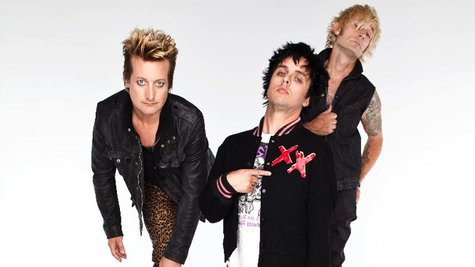 Green Day 's Mike Dirnt has weighed in on frontman Billie Joe Armstrong 's profanity-filled tirade at last month's iHeart Radio music festival in Las Vegas. During a recent interview with BBC Radio 1's Zane Lowe , the bassist reveals that Armstong's outburst may have been caused by the band's hectic schedule to promote their latest album, ¡Uno! .
"There were signs of things hitting the fan," says Dirnt. "We hadn't slept in forever and Billie had definitely had the worst of it. He'd been going through his own struggles. At the end of the day when we got off the road the most important thing was my friend's life."
Dirnt added that he hasn't been able to spend much time with Armstrong since he headed to rehab to seek treatment for substance abuse. "I'm sure Billie's had it really rough," he notes. "There's been very little contact between us...but it's a pretty heavy-duty process. This is probably the longest time we haven't seen each other -- I haven't seen Billie in weeks. It's an awkward position to be in, but we're going to pander this out."
While Green Day recently cancelled their appearance at the Voodoo Music + Arts Experience on October 27, the band is expected to resume their North American tour on November 26 at the Paramount Theatre in Seattle, WA.
Copyright 2012 ABC News Radio