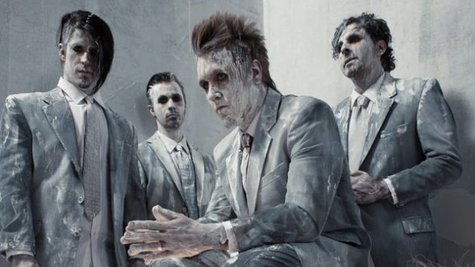 It appears that Papa Roach frontman Jacoby Shaddix is almost fully healed from his corrective surgery, during which doctors removed a nodule from his left vocal cord. Bassist Tobin Esperance says that the singer will soon be joining the band to begin practicing for their upcoming tour dates.
"[Shaddix] got the surgery like a month ago and the doctors are saying that it is healing great so we are ready to get on the road and do what we do best," Esperance tells Pop Culture Madness . "We get together in two weeks and we are going to start rehearsing."
After taking some time off for Shaddix to heal, Esperance adds that the band is looking forward to their busy schedule, which includes some TV appearances and some tour dates in Russia. "We have two live Guitar Center sessions that we are doing at the end of this month and then in November we fly to Russia and we start a tour," explains the bassist. "We will be in Russia for like two weeks and we are flying to Siberia. It is going to crazy! We are going to work our way all through Europe all the way over to London; we will be touring with Stone Sour ."
Papa Roach recently released their seventh studio album, The Connection , which clocked in #17 on the Billboard 200 albums chart with 22,000 copies sold its first week out, according to Nielsen SoundScan.
Copyright 2012 ABC News Radio