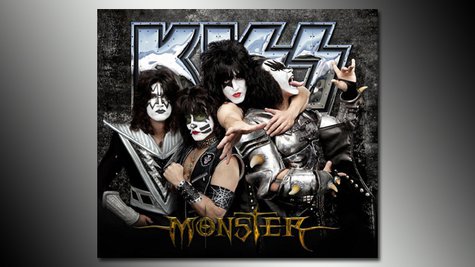 KISS ' new album, Monster , invaded stores on Tuesday. The record is a no-frills, hard-pounding collection of songs that likely will remind fans of various musical high points in the band's illustrious career.
KISS singer/bassist Gene Simmons and drummer Eric Singer spoke with ABC News Radio on Wednesday about all things Monster . Simmons points out that the band currently is "going on all cylinders," which resulted in a record of exceptional quality.
"If you're healthy in your mind and your body, you can do all kinds of things," he notes. "If the band's not healthy, you're not gonna come up with good stuff. The band's in a really great place, which is why the songwriting is some of the best stuff we've ever done."
Simmons credits Singer and lead guitarist Tommy Thayer with helping KISS reach its current creative plateau, following a sometimes volatile reunion of the band's original lineup during the late 1990s and early 2000s.
"Because of Eric and Tommy, there's been a revitalized, kind of reborn KISS, if you will," he says. "Reenergized, and they make [singer/guitarist] Paul [ Stanley ] and I look at the band through fresh eyes."
When it came to the recording of Monster , it was Stanley who oversaw and produced the project, along with Greg Collins . Simmons says he was glad to have his longtime band mate at the helm, while noting that there still was room for the other members to put in their two cents.
"A song would come in and we'd all take turns," he explains. "'How 'bout this?' 'How 'bout that?' It's actually the right decision. You know, we're all in the same car, [but] somebody's got to sit in the front seat and drive."
Regarding the sound of Monster , Singer maintains, "All the songs are rock 'n' roll. There's no ballads. There's no mellow song."
Adds Simmons, "There's just not a weak track. If this was a new album by a new band, we would be duly impressed…If you [told] us, 'We're gonna play the third song or the ninth song or the 10th song,' we'd go, 'Cool.' We stand by every song."
In a separate interview earlier this week, Stanley talked about what he tried to achieve with Monster .
"The music that I grew up on was passionate. It was never perfect, but it had tremendous commitment and conviction," he declared. "So, what we tried to capture on Monster was what I loved and we loved in music originally -- not perfection, but the urgency and the immediacy and the joy of making that kind of music."
As one of a series of events to promote Monster 's release, KISS is performing on ABC's Good Morning America on Thursday. The show airs from 7 a.m. to 9 a.m. ET.
Copyright 2012 ABC News Radio