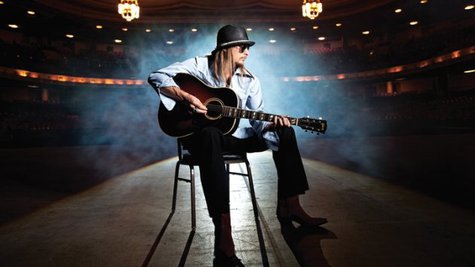 Kid Rock has teamed up with his close friend, actor Sean Penn , to promote a message of unity in a short film titled " Americans ." According to the video's description, the film's goal is to "tear down the one-dimensional political stereotypes portrayed by the media by confronting them head on."
The 11-minute clip -- which is definitely not safe for viewing at work -- features Rock and Penn in a bar bickering about their differing political beliefs and calling each other names. Rock scolds Penn for his supporting President Obama , while Penn lashes out at Rock for supporting Republican candidate Mitt Romney . The duo continues arguing until a news report comes on the TV near them announcing that the death toll of American soldiers in Afghanistan has reached 2,000.
Rock and Penn then hug and go on a journey together, where Penn gets Rock to trade in his gas-guzzling Chevy Impala for a Toyota Prius, attend a an environmental protest rally and a gay marriage ceremony. Rock then teaches Penn how to drink beer and offers him the gift of a NASCAR t-shirt. The video ends with both Rock and Penn riding bicycles near the beach while a message flashes across the screen that reads: "Don't let politics divide us. Thinking differently. It's what made this country great."
In other Kid Rock news, the singer will release his ninth studio album, Rebel Soul , on November 19.
Copyright 2012 ABC News Radio