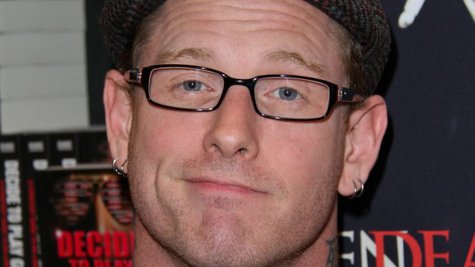 Stone Sour frontman Corey Taylor has partnered with Dark Horse comics to create a four-issue mini-series based on the band's upcoming double album, House of Gold and Bones . The singer says that his love of comics was the main reason he decided to create something for the concept album.
"It's something I've always wanted to do," Taylor tells USA Today . "I've always been very critical of when comics go south and basically pull the fan out of what the potential is. It's me pretty much putting my money where my mouth is."
Taylor added that the comic series will be "set in this crazy world where nothing's really what it seems, but at the center of it is really a concept about life and evolution and changes." The singer also noted that the lyrics of the House of Gold and Bones tracks will serve as the "internal dialogue" for the characters in the comics, offering "insight into what that character's thinking in that moment."
You'll need to wait until next year to get your hands on the comics -- the first issue of the mini-series won't be available until April 17, 2013. The albums, however, will be available sooner. House of Gold & Bones Part 1 will hit all the usual outlets on October 23, while the second installment, House of Gold & Bones Part 2, is expected to be released early next year.
Copyright 2012 ABC News Radio