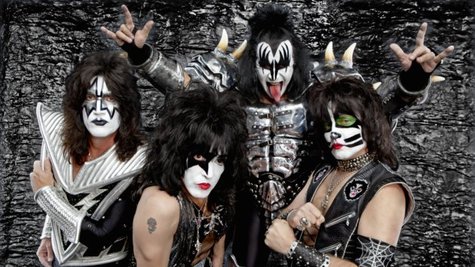 KISS fans can now get their hands on Monster , the band's 20th studio album, which invaded stores on Tuesday. You can help celebrate the arrival of the rocking new record by checking out KISS' live streaming performance online today at 8 p.m. ET/5 p.m. PT as part of the CBS Interactive webcast series Live on Letterman . The group's set will be viewable at CBS.com and VEVO.com.
The concert, which will take place at the Ed Sullivan Theatre in New York City, will feature KISS playing their new Monster single, "Hell or Hallelujah," in addition to several of their classic tunes. Following the live stream, the performance will be available for viewing on demand at the official Live on Letterman website .
KISS also will be the musical guest on tonight's episode of CBS' Late Show with David Letterman , which airs at 11:35 p.m. ET/10:35 p.m. CT.
In addition, KISS will visit ABC's Good Morning America on Thursday, October 11. Fans visiting the show's New York City studios will have the chance to get their faces painted to resemble their favorite member of the group. Good Morning America airs weekdays from 7 a.m. to 9 a.m.
Copyright 2012 ABC News Radio