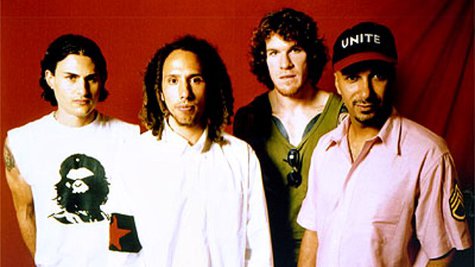 Twenty years ago, Rage Against the Machine released their self-titled debut album. To celebrate the milestone, the band will release a 20th anniversary edition of the album next month.
Titled XX , the album will be available on CD, digital and vinyl formats. Special and deluxe edition versions of the album will be released as well. The 20th Anniversary Special Edition features the remastered debut album, a CD of demos, and B-sides from the album's original recording sessions. It will also contain a DVD featuring videos and previously unreleased performances of "Take the Power Back," "Bombtrack," and "Wake Up."
The 20th Anniversary Deluxe Box Set will include everything listed above as well as an additional DVD of previously unreleased concert footage from 1991, 1994, 1996, and 2010. That package also includes a 12" vinyl LP and a two-sided poster. In addition, a vinyl edition of the remastered album will be released.
All versions of XX will be available in stores on November 27.
Copyright 2012 ABC News Radio