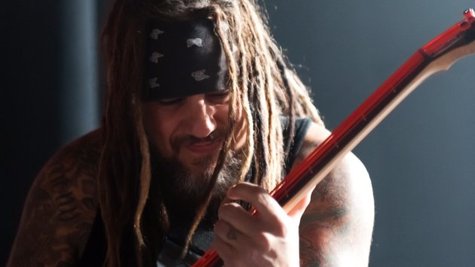 Even though it's only been about a month since Fear and the Nervous System -- the side project of Korn 's James "Munky" Shaffer -- released their self-titled debut album, the guitarist says that he's already begun working on material for the band's next release.
"I have some songs written," Shaffer tells ARTISTDirect.com . "They're ideas, but I think there might be some pieces of music within them. I'll write something and ask, 'Could I use that for Korn? Is it more alternative-sounding? Should I throw it away and not let anybody hear it?'"
Shaffer added that the band's forthcoming sophomore album will be "less structured and a little more experimental" and will be more of a collaborative effort. "This record will be more about...writing together as a band," he explains. "I think it will be a deeper, heavier, and more meaningful record since the vocalist and guy who writes the lyrics is going to be involved in every note written."
Fear and the Nervous System will be hitting the road later this week for a short tour to promote their debut album. That outing kicks off on Saturday at Brixton in Redondo Beach, CA.
Copyright 2012 ABC News Radio