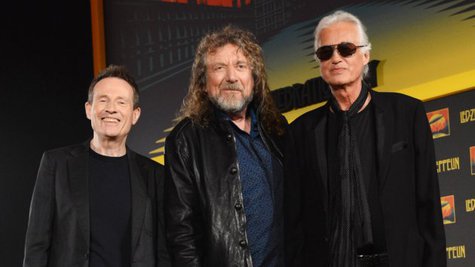 With Led Zeppelin finally prepared to release the video and audio from their 2007 reunion concert at London's O2 Arena, the question inevitably has arisen whether the surviving band members would consider playing together again. At a recent London press event, singer Robert Plant , bassist/keyboardist John Paul Jones and guitarist Jimmy Page were evasive when the subject was brought up. Now, in a new interview with Rolling Stone , Page has put his two cents about the chances for additional Zeppelin activity.
"I think if there had been any more concerts to be done, we'd already be talking about them. So I don't see it," he maintains. He adds that the new concert film, Celebration Day , "is a testament to what we did in 2007. There it is."
Jones also shared his feelings about reuniting with his Zeppelin mates, albeit a bit more vaguely.
"When I move house, I never look back at the house and go, 'Oh, that's the last moment I'll see there,'" he notes. "I always move forward."
Jones has high praise for Celebration Day , saying that watching the movie was "almost like being onstage with us." He points out that during Zeppelin's 1970s heyday, the band "always had that interaction…but nobody could see it, because the lighting wasn't there." At the O2 concert, director Dick Carruthers shot the group using more than a dozen cameras and Jones says, "It paid off."
After a handful of international premiere events in the coming week, Celebration Day will be screened in theaters worldwide on October 17. Then, on November 19, it will get its retail release in various video and audio formats.
Copyright 2012 ABC News Radio