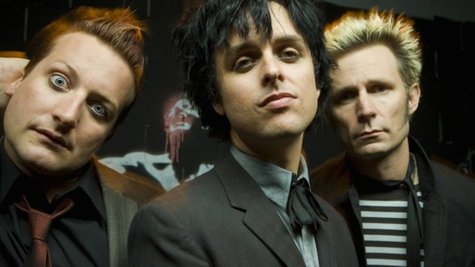 Green Day will be featured on the soundtrack of the final Twilight film, which will be released November 13.
They contributed a new song titled "The Forgotten" to the soundtrack for The Twilight Saga: Breaking Dawn -- Part 2 .
Bassist Mike Dirnt tells Yahoo! , "When we were asked to be part of the Twilight: Breaking Dawn -- Part 2 soundtrack, we readily agreed because the films are an insane cultural phenomenon, and we have always been impressed with the way the Twilight soundtracks are so carefully curated."
Passion Pit and Feist are among the other artists who appear on the soundtrack.
The final Twilight film hits theaters November 16.
Here are the artists featured on the Breaking Dawn -- Part 2 soundtrack:

Passion Pit, "Where I Come From"
Ellie Goulding, "Bittersweet"
Green Day, "The Forgotten"
Feist, "Fire in the Water"
The Boom Circuits, "Everything and Nothing"
St. Vincent, "The Antidote"
POP ETC, "Speak Up"
Iko, "Heart of Stone"
A Boy and His Kite, "Cover Your Tracks"
James Vincent McMorrow, "Ghosts"
Paul McDonald and Nikki Reed, "All I've Ever Needed"
Reeve Carney, "New for You"
Christina Perri, "A Thousand Years (Part Two)"
Carter Burwell, "Plus Que Ma Prope Vie"
Copyright 2012 ABC News Radio