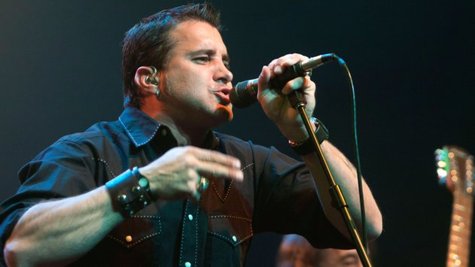 Creed frontman Scott Stapp says he owes his life to rapper T.I. During Stapp's visit to VH1 morning show Big Morning Buzz Live , the singer revealed that T.I. helped him after he attempted to commit suicide. Stapp says that he fractured his skull, broke his hip, nose and couldn't move after he jumped off the balcony of the penthouse of Miami's Delano Hotel following a drug binge, falling 40 feet.
"I laid out there for two and a half hours and my guardian angel showed up -- rapper T.I.," Stapp tells the show's host Carrie Keagan. "He came in off the street and came out, and as I'm laying on the ledge, blood fell to [T.I.'s] feet and he looked up and he had an Alabama hat on. I said, 'Roll tide,' and then he looked at me and put two and two together and really saved my life."
Stapp added that he'd met the rapper previously in 2004 when they were both creating material for an album of songs inspired by the movie The Passion of the Christ . "We had briefly interacted…and knew what each looked like," says Stapp. "We'd talked about being fans of Alabama."
You can read the full account of Stapp's suicide attempt in his recently released tell-all autobiography, Sinner's Creed .
Copyright 2012 ABC News Radio
Get More: Scott Stapp , MTV Shows