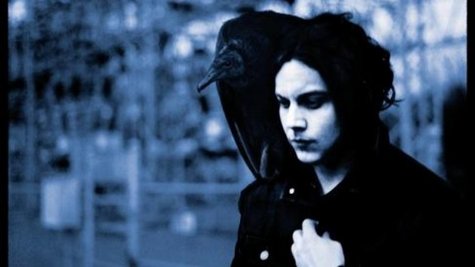 Jack White is on tour in support of his solo album, Blunderbuss , but he's anything but alone on stage. In fact, the former White Stripes singer has not one but two bands backing him -- an all-female band called the Peacocks and an all-male band, the Buzzards -- though only one plays on any given night.
Why spend all that cash? White tells the Wall Street Journal 's Speakeasy that he'd rather shell out money on musicians than on an entourage, unlike some of his peers. He says, "We played some festival and there was rappers, hip-hop artists...their entourages and the set-up, like you know, 45 people hanging out with them that got flown to London, and [then] Paris the next day...private jet, all this stuff. I don't feel bad at all now about having two bands, I mean, because at least all that money's going to push something to happen on the show, on stage. In a lot of ways you could waste your money on all that ridiculous stuff."
Jack White and his two bands are on tour stateside through October 28, when they leave for a short tour of the U.K.
Copyright 2012 ABC News Radio