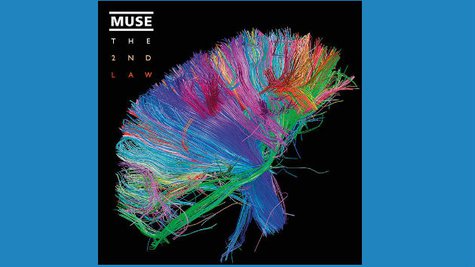 On Tuesday, Muse fans got their hands on the band's highly-anticipated sixth studio album, The 2nd Law . Frontman Matt Bellamy says that title of the new release was inspired by two things: a law of physics and the future of the human race.
"[The title is] talking about the second law of thermodynamics and how, as a limited ecosystem, we are on the verge of needing an energy revolution in order to sustain the way that we're living," Bellamy tells U.K. newspaper The Guardian . "This inner strength we have, this desire to evolve and expand and explore, I do love that about humanity. At the same time it's scary what it does on a global scale."
While recording the album, the band experienced some major changes in their lives. While Bellamy and his wife Kate Hudson welcomed their son Bingham into the world, bassist Chris Wolstenholme battled alcoholism.
"I kept my guard up," says Wolstenholme about his drinking habits. "I was quite crafty about how I drank and where I did it. Matt and [drummer] Dom [ Howard ] probably didn't realize how bad it was because I wasn't a nasty drunk. I didn't cause anybody any problems. I just retreated." Wolstenholme wound up writing two tracks on the album about his journey to sobriety, titled "Liquid State" and "Save Me."
You'll get your chance to hear music from the album performed live when Muse makes an appearance on NBC's Saturday Night Live this weekend.
Copyright 2012 ABC News Radio