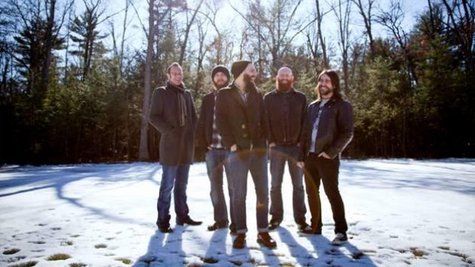 In celebration of the 10th anniversary of the release of Killswitch Engage 's major label debut album Alive or Just Breathing , the band is launching a North American tour where they will play the album in its entirety. The trek kicks off on November 25 at Slim's in San Francisco and will make stops in Seattle, Dallas, Chicago and Brooklyn, among other cities. Shadows Fall and Acaro will be supporting the band on select dates.
"I honestly never thought I would have the opportunity to sing these songs on stage with Killswitch again," said original frontman Jesse Leach in a statement, who reunited with the band earlier this year. "Now here I am back in the band and celebrating 10 years of the release of this record. I am absolutely thrilled for this tour. I can't wait to sing 'Rise Inside' and 'Just Barely Breathing' among others. This tour will be one we will all remember!"
Pre-sale tickets for all the dates are available for military personnel on Tuesday at VetTix.org . Remaining tickets will be available to the general public on Friday. Visit KillswitchEngage.com for more information.
Here are the tour dates:
11/25 -- San Francisco, CA, Slim's
11/27 -- Seattle, WA, Studio Seven
11/28 -- Portland, OR, Hawthorne Theater
11/30 -- Boulder, CO, Fox Theatre
12/1 -- Kansas City, MO, The Beaumont Club
12/2 -- Dallas, TX, Trees
12/4 -- St. Petersburg, FL, The State Theatre
12/5 -- Pensacola, FL , Vinyl Music Hall
12/7 -- Asheville, NC, The Orange Peel
12/8 -- Atlanta, GA, The Masquerade
12/10 -- Chicago, IL, Bottom Lounge
12/11 -- Columbus, OH, Al Rosa Villa
12/12 -- Toronto, ON, Opera House
12/14 -- Buffalo, NY, The Town Ballroom
12/15 -- Lancaster, PA, Chameleon Club
12/16 -- Brooklyn, NY, Music Hall of Williamsburg
12/18 -- So. Burlington, VT, Higher Ground
12/19 -- Northampton, MA, Pearl Street
12/20 -- Portland, ME, State Theatre
Copyright 2012 ABC News Radio