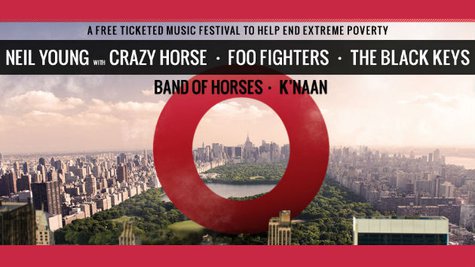 The Global Festival took place on Saturday in front of more than 60,000 fans on Central Park's Great Lawn in New York City.
The five-hour event, which was created to raise money and awareness about global poverty, featured sets by Neil Young & Crazy Horse , Foo Fighters , The Black Keys , Band of Horses and K'Naan . In addition, unannounced guest John Legend took the stage in the middle of the event to perform John Lennon 's 1971 hit, "Imagine."
During the Foos set, frontman Dave Grohl seemed to confirm the recent rumors that the band would be going on hiatus. "I wish we could play all night – but I'd rather see Neil Young," he told the crowd. "We don't have any shows after this. This is where we play as many songs as we can in a short period of time, because, honestly, I don't know when we're gonna do it again."
One of the greatest moments of the show was the finale. Keys guitarist Dan Auerbach and Grohl joined Young for a special rendition of "Rockin' in the Free World" featuring Band of Horses and K'Naan singing backup vocals.
In between sets, a number of celebrities made appearances to discuss global poverty and give awards to activists, including actresses Minka Kelly , Sophia Bush and Olivia Wilde , and pop singers Selena Gomez and Katharine McPhee .
Copyright 2012 ABC News Radio