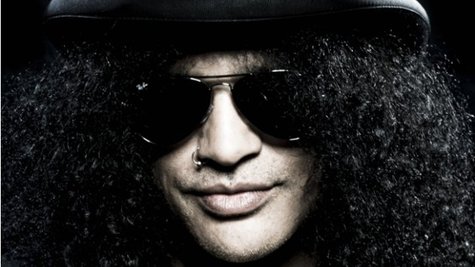 Got plans to go to overseas this winter? You may want to stop into a local record store while you're there. A limited-edition Slash deluxe four-disc package will go on sale across Europe on December 3.
The package features the guitarist's Made In Stoke 24/07/11 DVD, a single CD edit of the same show, his studio album Apocalyptic Love, and a previously-unreleased DVD, Live From New York . Rounding out the package is a 60-page hardback book with previously unseen photos.
Can't make it to Europe? According to Blabbermouth.net , a small number of imports will available at SlashOnline.com .
Here's the track list from the previously-unreleased DVD Live From New York :
"Mean Bone"
"Dirty Little Thing"
"Nightrain"
"One Last Thrill"
"Back From Cali"
"Ghost"
"Standing In The Sun"
"Rocket Queen"
"Doctor Alibi"
"Speed Parade"
"Apocalyptic Love"
"Watch This"
"Starlight"
"Just Like Anything"
"Halo"
"You're A Lie"
"Sweet Child O' Mine"
"Slither"
"By The Sword"
"Paradise City"
Copyright 2012 ABC News Radio