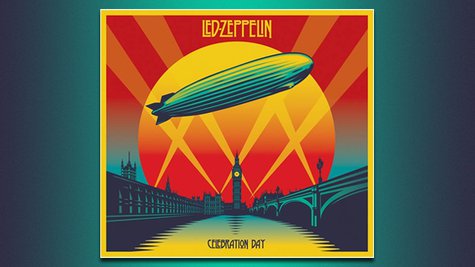 Almost two weeks ago, Led Zeppelin revealed they'd be premiering their new concert film, Celebration Day , in cinemas worldwide this month. Now we know the dates .
On October 9, the movie, which documents the band's December 2007 reunion concert in London, will be shown for the first time in the U.S. at the famous Ziegfeld Theater in New York City. The group's three surviving members, John Paul Jones , Jimmy Page and Robert Plant , along with late drummer John Bonham 's son, Jason , will participate in a press event at the Museum of Modern Art prior to the screening.
Three days later, the U.K. premiere of Celebration Day will take place in London at the Hammersmith Apollo. Jones, Page and Plant also are expected to attend that event.
On October 15, another premiere for the flick will be held in Berlin, Germany, at which Jones is confirmed to be on hand. Lastly, Celebration Day will be shown in Japan for the first time on October 16 at a venue in Tokyo. Page is scheduled to attend this event.
Celebration Day will be screened in about 1,500 locations across the globe on October 17. The film and its soundtrack will be released in a variety of formats on November 19.
Copyright 2012 ABC News Radio