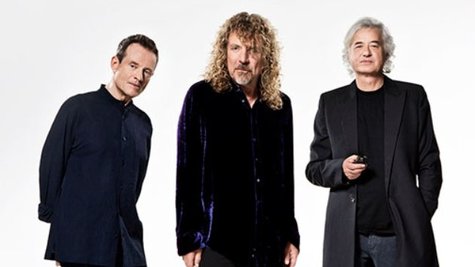 The members of Led Zeppelin will be toasted this Sunday at the 2012 edition of the annual Kennedy Center Honors , and the next night the rock legends will chat with one of their fellow honorees when they appear on CBS' Late Show with David Letterman . Robert Plant , Jimmy Page and John Paul Jones will participate in a rare joint TV interview on the program, which airs at 11:35 p.m. ET/10:35 p.m. CT.
David Letterman also will be recognized at 35th Kennedy Center Honors gala, which is held at the John F. Kennedy Center for the Performing Arts in Washington, D.C. The other luminaries who will be saluted at the event are acclaimed bluesman Buddy Guy , Oscar-winning actor Dustin Hoffman and Russian ballerina/choreographer Natalia Makarova .
A two-hour TV special featuring highlights from of the gala will air on CBS on December 26 at 9 p.m. ET/PT.
Copyright 2012 ABC News Radio