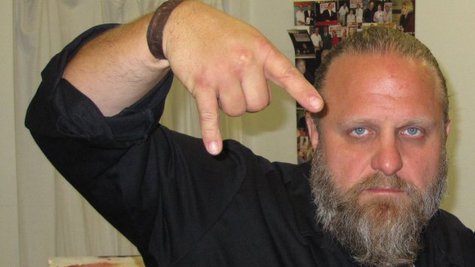 For months now, members of Slipknot have expressed different opinions about when the band expects to begin recording their first album without late bassist Paul Gray , who died in 2010. Percussionist Shawn "Clown" Crahan says that fans shouldn't be focused on when they can get new music from the band.
"It's kind of nobody's business what we're gonna do, when we're gonna do it, how we're gonna do it," Crahan tells ABC News Radio. "We're musicians. I'm writing music every day of my life, my singer's writing lyrics every day of his life, other people in the band are writing songs, that's never gonna stop but when, how and all that…everybody's just gotta wait and see."
Crahan adds that if Gray was still alive, fans would already have the band's fifth studio album in their record collections. "If Paul wouldn't have passed we'd actually be finalizing our fifth record cycle right now," he explains. "Instead of going out and writing, we decided to sporadically tour and share the loss with our fans."
While Slipknot is currently on a break, the band has scheduled two festival appearances for 2013. They will be performing headlining sets at the inaugural Ozzfest Japan in May and at the U.K.'s Download Festival in June.
Copyright 2012 ABC News Radio