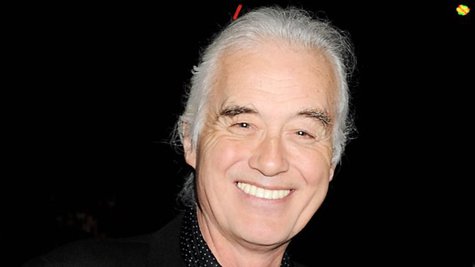 Led Zeppelin 's Jimmy Page recently revealed to the U.K. music magazine Mojo that he was preparing remastered and expanded versions of his band's studio albums for upcoming release. Now the guitar legend has shared more details about the project in a new interview with Rolling Stone .
Page reports that the reissues "will be coming out, bit by bit," starting sometime in 2013, while noting that they will feature "added sonic and visual thrills."
The Rock and Roll Hall of Famer says fans can expect the revamped releases to include alternate versions and mixes of songs, as well as audio and video of quality live performances coinciding with each album. Page explains, "There are concerts that were recorded -- some that might have appeared on bootleg in some shape or form -- and a certain amount of footage, though not a lot."
Regarding exactly when fans can expect the reissue campaign to begin, Page explains that he can't say specifically yet, since "you've got to get to the point where all of the members of the group are in agreement." He adds, "I would hope it is sooner rather than later."
He also notes that when the reissues do arrive, he expects that fans will be very happy with the extra material. "I'm not just throwing on any old flotsam and jetsam [on the albums]," Page says. "This will be really substantial stuff."
Copyright 2012 ABC News Radio