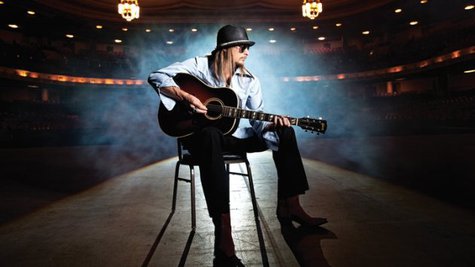 Kid Rock and Led Zeppelin both scored top-ten positions on the Billboard 200 albums chart this week.
Kid Rock scored the #5 spot with his ninth studio album, Rebel Soul , which sold 146,000 copies, according to Nielsen Soundscan. It's a bit of a drop from his previous release, 2010's Born Free , which also entered the Billboard 200 albums chart at #5, but moved 189,000 copies in its first week out. In addition, Rebel Soul is the first of Kid Rock's albums to be sold digitally. The album debuted at #3 on the Digital Album Chart, racking up 57,000 downloads sold.
Meanwhile, Led Zeppelin's Celebration Day album sold 101,000 copies during its first week in stores to land at #9 on the tally. The release, which is available in a variety of audio and video formats, documents the legendary band's December 2007 reunion concert at London's O2 Arena.
Celebration Day is Led Zeppelin's 13th album to reach the top 10 of the Billboard 200. The last official release from the band to do so was the 2007 hits compilation Mothership , which bowed at #7 in December of that year.
Copyright 2012 ABC News Radio