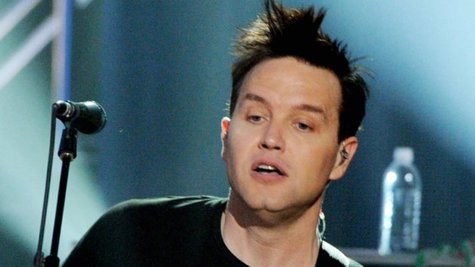 Following in the footsteps of his band mates, Blink-182 bassist Mark Hoppus has launched his own clothing line, My Name Is Mark.
The signature line will feature four limited edition t-shirts, which will be released one at a time over the next four weeks. Each shirt will only be available for seven days or until it sells out. The first shirt is for sale now on My Name Is Mark's website and features a picture of an octopus, which is also the clothing line's logo.
"I've been using the octopus logo over the past few years, and throughout, people have asked, 'what's up with the octopus?,'" says Hoppus in a statement on his website. "It's an easy answer. Music. Friends. Art. Travel. Adventure. Quotes from your favorite movies. The ocean. Punk rock clubs. Video games. Websites that make you laugh. Literature. Photos of good memories. London, Los Angeles, New York, and everywhere in between. I hope that narrows it down."
In other Blink-182 news, the band will release their new digital EP, dogs eating dogs , on the band's official website starting December 18. The guys have created three limited-edition gift packages for the release, which range from $19.99 to $99.99. The sets feature a variety of Blink-branded goodies including a holiday edition t-shirt, a holiday card, a holiday edition hooded fleece sweatshirt and a limited-edition poster, among others. Visit Blink-182.com for more information.
Copyright 2012 ABC News Radio