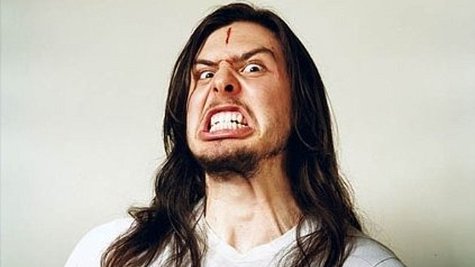 Andrew WK isn't happy that his trip to the Middle Eastern country of Bahrain has been canceled.
Last week, the notoriously hard-partying singer posted a message on his website declaring that he'd accepted a State Department invitation to travel to the Middle Eastern country of Bahrain in December to "promote partying and positive power." However, Andrew WK's excitement about the trip was short-lived: senior embassy staff officially canceled the trek on Monday, citing concerns about the artist's work.
"I'm disappointed and puzzled by their change of heart and last-minute decision," said Andrew WK in a statement on his website. "When I was originally invited by our contact, it seemed everyone was aware of what I stand for with my positive attitude. I was thrilled at the opportunity to represent my country and the spirit of inclusive and open-minded freedom that makes our nation so special and inspiring."
The singer goes on to say that the trip had been in the works for over a year, noting that he's upset that he went through an "extensive" background check and booked all his flights, only to have it canceled just one week before he was scheduled to leave.
"I would've done a great job and represented our nation with dignity and pride," he explains. "Despite all these challenges, I still would love to go and I vow to continue partying, and working every day to unite our human race through the power of positive partying."
Copyright 2012 ABC News Radio