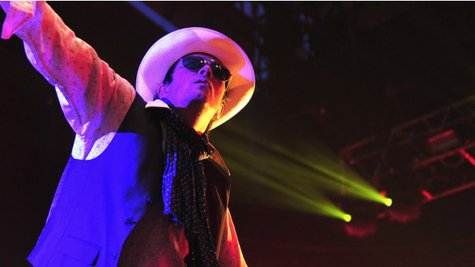 Scott Weiland is still hoping that he can reunite with Velvet Revolver . The singer says that he's ready to put any differences aside and make some new music with his former band mates.
"I think it's the perfect time for Velvet Revolver to get back together," Weiland tells Rolling Stone . "I think that's exciting to look forward to. It's the old cliché, 'If the gods of rock want it to happen, then it will.'"
Weiland adds that if he returns to Velvet Revolver, he hopes that the guys will take advantage of making music for other projects. "There have been some things that have stood in the way [of a reunion] that aren't anything that have to do with the band," he explains. "But now we're sorting through things, and we want to start writing for some big film opportunities that have come our way, and try to set things up the way we set things up when we initially got together."
Whether he gets back together with Velvet Revolver or not, Weiland reveals that he plans on taking some time off from his other band, Stone Temple Pilots , to work on a new solo album in 2013 with his new solo band, Scott Weiland and the Wildabouts .
"I think the band needs to take some time off and be creative again," he notes. "I don't think that touring consistently with a greatest hits package gets you anywhere. It diminishes things."
Copyright 2012 ABC News Radio