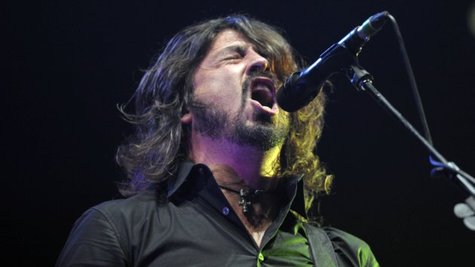 As previously reported, Foo Fighters frontman/former Nirvana drummer Dave Grohl is back behind the drum kit for Queens of the Stone Age 's forthcoming new album. During an interview with BBC Radio 1 's Zane Lowe , Grohl says he's enjoying the creative freedom that the band is giving him for the new tracks.
"With Queens of the Stone Age, like, there were no boundaries with that band, there were no limits with them, it was like if you did something insane, you'd do more," he explains. "I'll do something so completely ridiculous, I'll [think], 'There's no way that that Josh [ Homme ] isn't going to let me do that,' and he'll say, 'Do that for forty-five seconds, over and over again, that's become, like, part of the song, that is a big part of the song,' and that's the way they work."
Grohl adds that he has an enormous amount of respect for the band and is thrilled to be working with them again. "When you walk into a festival backstage with Queens of the Stone Age, it's like, the record stops," he notes. "People stop and they stare, and it's like, Queens of the Stone Age are, without question, the baddest rock and roll band in the world! And they still are."
A title and release date for the forthcoming album has yet to be announced.
Copyright 2012 ABC News Radio